Frequently Asked Questions
Q1. How long do I have to wait for my adoptee to transport overseas? When does the flight normally arrive?
The waiting period depends on how soon we can find a volunteer passenger carrier to accompany our dogs into Vancouver from Taiwan.  Usually we can find a volunteer passenger carrier at least once a month. The full adoption fee payment and signed adoption contract are required before your adoptee's flight can be booked and confirmed.  Normally the arrival time for flights from Taiwan to Vancouver is around 7pm-8pm daily.  Our volunteers will meet adoptive families at International arrival lobby at YVR (Vancouver International airport) to wait for the dogs to come out with the volunteer passenger carrier.
Q2. Can I return the dog to CERA if I were no longer able to take care of this dog for whatever reason?
Yes, you can return your adoptee to CERA without paying any surrender fee.  Please note your adoption fee is non-refundable.  Before giving up on your adoptee, you should know that your new dog needs at least 6 months to get used to a new environment or to bond with you.  Please consider carefully before applying for this dog.
Q3. Can I transfer the dog ownership to a family member or friend if I were no longer able to keep the dog?
Please note dog ownership transfer is not allowed without CERA's approval.  
Please call us at 604.779.6779 for assistance to re-home the dog.
Adoption Process
Our volunteers have invested a great deal of care and effort to prepare each rescue dog for adoption, however each dog will likely require continued work in his/her new home with a family understanding of his/her individual needs. Our adoption process is lengthy to ensure that each dog is matched with the right home, and that each family receives the most suitable dog the first time around.
CERA pre-screens all dogs and will not knowingly provide a dog that is dangerous or unsuitable for adoption. Please note CERA does NOT have a shelter facility in Vancouver should you want to return your adopted dog for any reason. Returns are stressful for everyone involved, please consider seriously before applying as you are making a lifetime commitment to the dog.
*Please consider this adoption carefully before applying* 
CERA reserves the RIGHT to refuse any applicant for any reason without further explanation. CERA will NOT hold a dog for any applicants, and there may be multiple applications for the same dog.
Primary applicant must be of 21 years of age or older.
Adoption Process 
1. Submit your initialed online adoption application
A volunteer will email you once your application is reviewed and ask for pictures of inside and outside your residence (showing front and back yard and height of fence, if applicable).
2. Phone interview / email correspondence
A phone interview will be arranged, during which any questions you may have will be answered.
A home-check is scheduled at your convenience to make sure the environment is suitable for the dog.  All the home's residents must be present for the home check.  More pictures will also be taken at this time for our rescue's records.  After the home check, our volunteers will decide whether to approve the adoption application.  We will inform you our decision within one to seven days.
4. Sign adoption contract and pay adoption fee 
Once your adoption application has been approved and a flight date or arrange pick up date has been confirmed, you will then need to sign the adoption contract and pay the adoption fee.  Payment can be made through bank deposit to our rescue's account or e-transfer.
Note: Full payment of adoption fee is required before your adoptee's flight can be booked if applicable.  We must also receive the hard copy signed contract to finalize adoption.
5. Meet at YVR Vancouver International Airport (if applicable)
On the flight date, our volunteers will be there to help you pick up your dog.  We will contact you within the first few days of your dog's arrival to assist you should you have any questions.  Please keep in touch with CERA through email or Facebook!  Pictures and stories of the dog are greatly appreciated by our volunteers and foster families both locally and abroad, and inspire us to continue with our rescue work.
Personal Information Protection Policy
Canine Education Rescue and Adoption (C.E.R.A.) is committed to the protection of personal information entrusted by our volunteers, applicants, and adopters.  Our organization manages your personal information in accordance with British Columbia's Personal Information Protection Act and other applicable laws.  This policy outlines the principles and practices that C.E.R.A. follows in safeguarding your personal information.
C.E.R.A collects your personal information necessary for the purposes of assessing and facilitating the adoption of dogs or determining the suitability of a volunteer role within our organization.
We will not be able to provide certain services if you are unwilling to provide your personal information for the purposes herein stated above.  We respect your decision but we will not be able to provide services where we do not have the necessary personal information.
We will inform you at the time of personal information collection of the purposes for which we are collecting the personal information.  We ask consent from you to collect, use, or disclosure personal information except in circumstances authorized or required by law.
We make every reasonable effort to prevent unauthorized access, loss, and misuse of personal information.  We retain personal information for as long as to fulfil the purposes herein stated above.
If you have a question or concern about the collection, use, or disclosure of personal information by C.E.R.A, please contact us at 
info@ceradogs.org
Thank you for your attention.
CERA Fence Policy
Fence policy is for the benefits and well being of the dog and not meant to imply that homes without fencing do not have capable and diligent owners.  All dogs deserve a safe area to run and play in while under human supervision.
A fenced yard is NOT a substitute for exercise, and no dog should be left outside to live there!  
For applicants with a yard, CERA prefers a permanent and secure fence of no less than 4 feet (6 feet for larger dogs) to adopt a dog.  
For applicants who live in a condo or apartment where there is no yard, appropriate leashing is required.  Applicants who reside in apartments or condos will not be turned down unless the dog's adoption profile specifically asks for an enclosed yard as a requirement.
Benefits of Having a Secure Fenced Yard:
Keeps your dog safe so s/he doesn't run onto the road to be injured or killed
Keeps your neighbours happy as your dog won't be on their property
No hassles with the neighbours' pets coming into your yard
No potty walks in bad weather, inconvenient hours, or when in rush
Not missing the company of your dog when you are out enjoying your property
Electrical or 'invisible type' of fencing is not acceptable:
Some dogs love to chase things. Many excited dogs will forget about the shock or decide the shock is worth the fun and chase after the deer, ball, child, etc. right out of the yard anyway.  They may not come back into the yard when the excitement of the chase is over as they know the shock is coming. 
Electrical fencing only affects the dog wearing the special collar and won't deter other dogs, animals, people, etc. from coming into the yard and harming, attacking, or stealing your dog.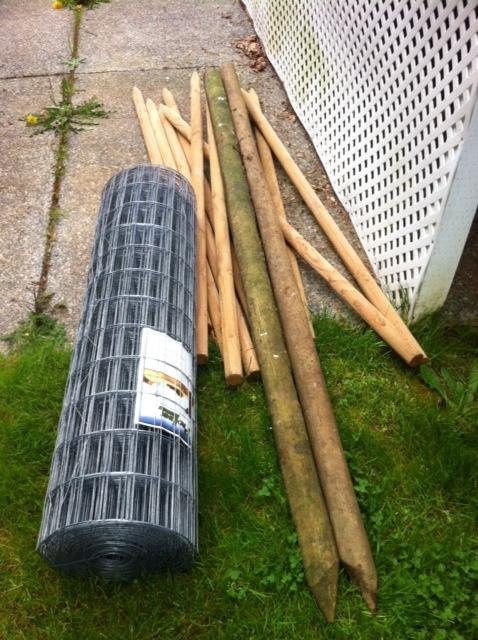 CERA Spay and Neuter Policy
All CERA adoptable dogs are spayed or neutered prior to adoption in order to help fight pet overpopulation.
All over the world millions of dogs of all ages and breeds from unwanted and unplanned litters are killed or suffering as strays.
CERA would only adopt dogs to applicants who have fixed their dogs and cats in accordance with our efforts to educate the public about responsible pet ownership.  Spay or neuter is the only permanent, 100 percent effective method of birth control for dogs and cats.  Only spaying and neutering can prevent the death and suffering of millions of homeless pets.
Vacation Warning
In light of recent incidents and tragedies, our rescue would like to remind all adoptive families that when they go on vacation/away for work please take extra precautions to ensure their dog's safety.  
The dog should always have the adoptive family's own dog tag and our rescue's ID tag on the collar.  If the dog were lost and found, people will call the number on tag(s) and if the adoptive family were away our rescue will be notified to assist with the situation.
When handing over the dog to a friend, family, dog sitter, or boarding service, please emphasize the importance of checking fence security (even in dog park) to eliminate the dog's flight risk and even fenced yards still need supervision.  Please make sure the gate is fully closed first before releasing the dog.
Leash the dog before opening a door or have a containment barrier inside the door.  Lock doors so people cannot accidentally open a door before the dog is contained.
Please also explain any noise sensitivities the dog may have and ask the caretaker to watch out for signs of danger.  For example on some holidays there may be firework celebrations, knowing the dog is terrified of fireworks, walks should be minimized at night especially with poor visibility.  
If walks are taken, the dog would unlikely be able to escape with a properly fitted collar and harness in good condition both hooked on a leash.  Unfortunately accidents do happen but our rescue hopes that each adoptive family will take the time to communicate with their dog's caretaker in regard of safety measures for the dog prior to their departure. 
Thank you.